This article describes how you can delete an existing target. You can only delete a target you have created yourself, you can't delete or edit anything someone else has created. If a target is used in one or more rules, it can't be deleted.
Important
If you try to delete a target which is used in at least one rule, you'll receive a notification: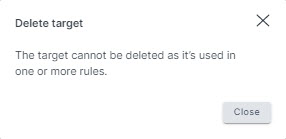 To delete a target:
Go to the Targets tab.
Click the target on the list:
The target details page opens:
In the top right corner, click Delete.
A dialog opens, asking you to confirm your action. Click Delete:

The target is deleted.